---
"This cake was done for me in the beginning from a lady at her house. She did me the 2 layer cake without fondant. My fiancé and I went to pick it up and everything was okay. On our way home the top layer cake completely crushed the bottom cake. It turns out the lady did not put any support for the top layer cake to the bottom. It was literally broken. My party was in an hour for my 2 year old and all I wanted was things to go right. So I was hysterical crying, I'm pregnant so I been so emotional. Only this happens to me. So I stopped by at this bakery and my fiancé asked them if they can see a cake and see if they can fix it. When he asked them they were already busy doing cakes. We brought it in and it looked like they already clean their area to help us. They were amazing. I wish I took a picture of the before picture because you wouldn't believe it. I couldn't believe they stopped what they were doing to just help us. Annette and her team are absolutely the BEST. They made my cake look better than what it looked before and changed the whole look in less than an hour. I couldn't be more grateful with them. I will never go to any other bakery again. This will be my one and ONLY bakery for sure. I highly recommend them. Not only they make amazing cakes, their team really cares." -Yari N
"Dear Annette, Thank you for the amazing 50th birthday cake you made for my husbands party. The cake was the highlight of the party, it looked gorgeous and people were raving about the cakes taste. It was the perfect combination of moist, texture and you mixed the perfect ingredients to make that mouth watering coconut cake! You are a fairy godmother when it comes to cakes, Take Care, Mariana Gouveia p.s. We are now your big fans! Thank you for making his day special! It makes all the difference having stopped by and having received your attention and tasted various cakes and fillings! Keep up the personalized attention and delicious cakes!"
Dear Annette, You created a masterpiece! The DUCK POND and GOLF GREEN cakes were so real, so original, and everyone anxiously awaited the "cutting of the cake" – but hated to see it cut into. The cake was a huge success, and so delicious. My Mother's 90th birthday was the best it could have been, and thanks to you, your cake was the culmination of a very precious event! There is no one who bakes better cakes, one who is kind, attentive, and delivers more than one would hope for! Thank you from all of us!
-Bonne Luck
Wow! The cake was an enormous hit! A few of the adults almost cried when we had to cut into it. Lol. They thought I ordered it from one of those food network chefs. Thank you so so so much for working with us!
-Donna
I needed a cake for someone's Birthday who is very important to me and lives in the Orlando area and I live out of state. After calling a few local places that told me there was no way they could do anything last minute or the same day, I found Annette. I explained my situation to her and she was just wonderful. She not only took my order and drove it there in less then 2 hours after I called but at the time she didn't except credit cards and she told me to mail the check to her and trusted that I would send it! I'll put it simply this way… Annette is a God Send! Not only did she save the day but the cake she made was a huge hit! Everyone loved it and wanted her phone number and said it was the best cake they ever had! I could never say enough great things about Annette, But I will say this…. I will always use her from now on! She is just a wonderful person with a beautiful soul. Thank you a hundred times over Annette and may God continue to bless you and your family!
-Steve R.
Annette,The word search puzzle cake for my Grandma's 101st Birthday was FABULOUS!!! My grandma had fun finding all of the words and the pen to circle them worked great. As always, the cake tasted even better than it looked which would seem impossible. I will try and send a few pictures soon. Thanks again, the cake not only met my expectations but far exceeded them. Your are amazing.
-Terry Hebior
Annette, I just had to send you a quick e-mail to tell you how absolutely BEAUTIFUL the wedding cake was. Never could I have imagined it would have been so amazingly gorgeous!!!! It was even more special and beautiful than I had ever pictured. Thank you so much for making that part of my special day. Everyone came up to me asking who made my cake and told me how delicious it was afterwards. You will always always come highly recommended by myself and my family.
-Heather
Annette, thank you for such a beautiful 1st birthday cake for my daughter Abigail. It was so easy liaising with you from the UK and a wonderful experience. I cannot thank you enough for all the effort you put into her lovely cake. Hopefully the next time we come out it will be my daughters birthday again and I will definitely give you a call. Best Wishes,
-Karen Lang
"In my experience, your graciousness and sincere interest in Jamey and Matt's desires was very impressive and comforting. We loved our first visit with you and all felt confident that we knew exactly what the cake would be like, from the visual materials to the tasting opportunity…
You were very good at helping Jamey articulate her vision and preferences, even when she did not yet know exactly what she wanted, and then you followed through on her desires to the smallest details.
You were very calm, flexible and supportive as we went through the wedding "crazies"! The cake was never a concern of mine. You thought of details that never would have occurred to me.
Well, those thoughts along with another "yahoo" for the cake's beauty, exact specifications and great taste, sum it up! 🙂 As I have passed around pictures from the wedding, right behind how beautiful Jamey was, are constant sighs at the wonderful cake…it was stylishly different enough to be a Jamey hallmark. And I also should tell you that I took the leftovers home and carried them to my elementary school for friends as I promised. The entire portion was gone in less than 1 hour…at 8:00 in the morning! It was as if a swarm of locust came in! 🙂 People were trying to figure out the flavor, it was so cute.Be well dear one, and thanks again. Your face and your mother and your family and ministry are in my mind and heart, and I will enjoy praying for you on every remembrance."
Blessings on you,
Merrie
Col. 2:2
"I just wanted to take this time to thank you for the awesome job you did on our wedding cake. It turned out just like what i saw in my head. Everyone at the wedding was impressed with the cake. I didn't want to cut it because it was so beautiful, But of course we did. I just wanted to let you know what an awesome and wonderful job you did 'I couldn't have asked for anything better. Everything turned out just perfect. That was the icing on the cake. 🙂 haha sorry i had to. Thank you again
-Marie Higginbotham
Annette, I just wanted to say Thank you from the bottom of my heart for making my wedding cake the most beautiful cake I had ever seen, everybody loved it and said how good it tasted. You made my whole experience from the beginning until the end wonderful. I can't thank you enough. You have not seen the last of me because any time I need a cake I will come to you. Thank you again
-Beatrice Rivera
Annette, I just wanted to thank you for our beautiful wedding cake! It was just exactly what I wanted. You did an amazing job and it could not have been more beautiful! It was a pleasure working with you and we will recomend you to all of our friends in Florida! Thank you soooooooooooooo MUCH!
-Paula Stapleton
After being let down with a couple other "leads" for cakes, I got very frustrated. I did a search on a wedding vendor website and found Annette. I e-mailed to set up an appointment and waited for a response. I didn't have to wait long, as she e-mailed me back right away! At the appointment I wasn't expecting much, because I had been let down before. AS SOON as I walked in I felt at home. Annette made both my husband and myself feel so comfortable. She spoke with lots of knowledge and was really down to earth. I knew after meeting with her and meeting her husband that I really wanted to have her do my cake. So I explained to her what I wanted, gave her the deposit, left a few details up to her, and boy did she come through with the most amazing cake! Not only was it what we had wanted, but it was sooo much more. I would recommend Annette to anyone and everyone who wants to receive the best of quality treatment! We THANK YOU for everything!
-Christina & Moses Polk
Annette's cake was perfect for the occasion. My daughter simply explained what she wanted and Annette did a wonderful job. The cake was exactly as Kimberly described and it was beautiful she said it was perfect. Everyone went on and on about the cake and how it was so beautiful. Not only are Annettes cakes wonderful, but also she is a very special lady that is always trying to please. I would recommend her services to everyone.
—Connie Scoggins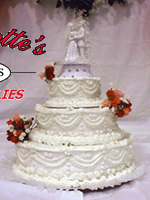 My wedding cake was splendid. A jewel in and of itself! It looked wonderful on its stand. It really added to the decor of my reception site. Every detail was finely crafted. Not only did it look fantastic, but it was delicious as well. (Annette is pretty sweet herself). Thank you!!!!!
—Andrea McGuire
HELLO ANNETTE. I DON'T KNOW IF YOU REMEMBER ME, YOU DESIGNED OUR WEDDING CAKE LAST YEAR. IT IS THE CAKE THAT YOU CALL QUILTED BLUE PEARLS.
JASON AND I JUST CELEBRATED OUR 1ST WEDDING ANNIVERSARY AND HAD THE TOP OF OUR WEDDING CAKE. LET ME TELL YOU, IT WAS JUST AS GOOD AS IT WAS A YEAR AGO. THE CAKE WAS MOIST AND THE FONDANT ICING YUMMY. I JUST WANTED TO SAY "THANK YOU" FOR DOING SUCH A WONDERFUL JOB ON OUR SPECIAL DAY ONE YEAR AGO, NOVEMBER 5, 2005. IT WAS A SWEET REMINDER OF JUST HOW WONDERFUL THAT DAY WAS TO BOTH JASON AND I.
I SEE YOU HAVE ADDED NEW PICTURES. THEY LOOK GREAT. I WAS HAPPY TO SEE THAT OUR CAKE MADE THE CUT TO BE ON THIS AWESOME WEB PAGE. THANKS AGAIN SO VERY MUCH FOR YOUR TIME.
–JENNIFER & JASON HAMRICK
My cake was so beautiful you didn't want to cut it, but we are so glad we did, it was delicious! Thank you –Sheila Watts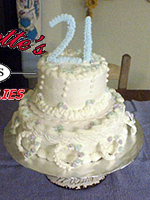 My 21st birthday cake was ABSOLUTELY GORGEOUS, and tasted AMAZING! Annette does an awesome job on ALL kinds of cakes. Not only did she do my birthday cake, but she's doing my bridal shower cake & my wedding cake as well. I would recommend her to ANYONE & EVERYONE! She is unbelievably good at what she does!
–Melanie Howard

I ordered a cake from Annette and was amazed! She did such a beautiful job on decorating it. It made our special day even more special, And the cake was delicious. She is truly a professional in every sense of the word. I would definitely recommend her to anyone looking to purchase a wedding cake. Their searching stops here. Thank you so much Annette!!!
—Deidre Gilmore

"A thing of beauty is a thing to behold." This cake was not only beautiful, it delighted the palate. It was a "melt in your mouth" pleasure. Taste and see how good it is! –Karen Miller