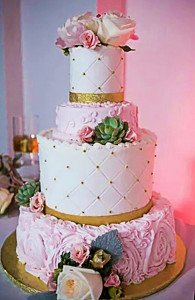 Annette's Cakes of Orlando, specializes in custom cake design…and we love what we do.  As a family owned business working side by side, we aspire to give each customer the perfect cake for their next event. With over 30 years of baking experience, Annette brings unparalleled talent and creativity to the industry of wedding cake design in the Orlando area.
Our cakes are designed with the belief that collaboration with the customer should be as exciting, and fun as the delicious end result.
We want to design your next cake, give us a call for a free consultation!
Hours: Closed Sunday & Monday, Tue-Fri 9-5 Sat 9-12
11039 E Colonial Drive – Suite E, Orlando, FL 32817 Ph:(407)277-6247
Email info@annettescakes.com